Franke.0

Posts

: 2


Join date

: 2018-07-07

on Sat Jul 07, 2018 7:16 pm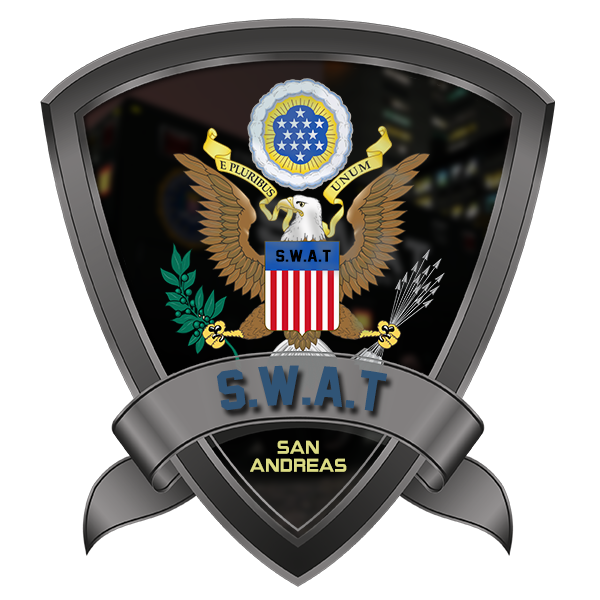 S.W.A.T is a technologically-advanced paramilitary force lead by Commander Franke and his subordinate, Hola. It operates under the control and supervision of the United States Government, and acts as a replacement for the SNG at higher Notoriety levels, although the San Andreas Police and a minor CAGE presence still remain. S.W.A.T has their own, SGN arsenal of futuristic weapons and vehicles.S.W.A.T is deployed to San Andreas following a devastating attack on the Bayside in Tierra Robbada, perpetrated by The Mafia. Senator of San Andreas gains unanimous approval from the US Senate to initiate "TheS.W.A.T Initiative" upon the city, essentially putting it under martial law with the intent of eliminating the gangs for control of the city. S.W.A.T arrives in force aboard the aircraft carrier Thermopylae, ambushing The Gang Leaders in Technically Legal, and begins deploying troops and mobile bases throughout the city. Initially relegated to a peacekeeping role in San Andreas, S.W.A.T's role and actions intensify following the sinking of the Thermopylae by the gangs. The city is placed under lockdown andS.W.A.T begins to actively combat all the gangs with their specialized commando units, focusing primarily on the official ones.
                                                                                                                                 RANKS:
                                                                                                              Commander (Level 5 - Squad Leader)
                                                                                                                                 -[SWAT]Franke
                                                                                                     Vice Commander (Level 4 - Squad Vice Leader)
                                                                                                                                 -SWAT]Weed
                                                                                                                           General (Level 3 - HQ member)
                                                                                                                                -[SWAT]NoneLovesMe
                                                                                                                                -[SWAT]Trol
                                                                                                                           Lieutenant (Level 2)
                                                                                                                                  -
                                                                                                                           Private (Level 1)
                                                                                                                                  -
                                                                                                                          Recruits (Level 0)
                                                                                                                              -                                                                                                                      -
                                                                                                                              -
                                                                                                                       Total Members =3                                                                                                                                                                                                                                                                                                                                                                     
                                                                                                                           [color=#FF9933]  Squad Rules:
- Follow all the in game server rules (F1)
- Be active within the game, your expected to be on for around 3-4 hours a week, if your going to be inactive please tell us. Anyone failing to do will possibly find himself kicked from the squad
- Be a fair and honorable within the game, a bit of trolling is ok, but dont be a total dick.
- Follow all orders from high rank members and HQ, if you fail to do so you will be punished.
- When we do RPs and trainings, try and act like a real CAGE team, show it in your play style also.
- Remember: You are a cop and not a criminal, so always try to arrest them before you kill them.
- If you receive 3 warning levels within S.W.A.T at a time, you will be kicked.
- Always wear the [SWAT] or [SWAT*] (if on probation) tags at all times, no matter what spawn your in (except on special occasions).
- Teamwork is key. Group up and work together as much as possible.
                                                                                                                        SKIN:                                                                                                                   
https://i.servimg.com/u/f31/19/93/92/25/skinid11.jpg
                                                                                                                       Application Format:
I. Personal Info :
In-game Name:
Username / Account-name:
Age:
Gender:
Nationality:
Languages Spoken:
Why you want join S.W.A.T* :
Why i will accept you in S.W.A.T*:
Mr.WeeD

Posts

: 3


Join date

: 2018-07-06

on Mon Jul 09, 2018 3:30 pm
Good Luck


Permissions in this forum:
You
cannot
reply to topics in this forum